<![if !vml]>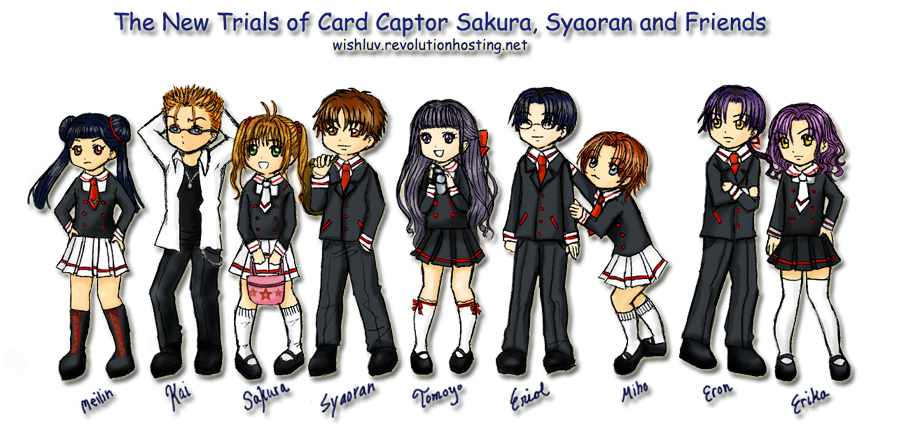 <![endif]>
Seijou Junior High Class 3-2 plus Miho in their Seijou Junior High uniforms… (though Kai is not really in dress code). The girls have more leeway because they can choose between the white skirt and the black skirt and the red tie or the white tie. Their summer uniforms are white blouses with black skirts (similar to the Tomoeda Elementary Summer uniforms). I just noticed Tomoyo's in the middle—looks like she's the main character. Lol…I forgot why I don't draw group pictures… they're a pain to color)
List of New Trials of Card Captor Sakura Characters
WARNING, spoilers ahead!
PRINCIPAL CCS CHARACTERS
(Sakura's age group starts off at age 14 in their second year of junior high in Arc One. During Arc Two and Arc Three, Sakura and Syaoran-taichi is 15 years old and in their third year of Seijou Junior High, Class 3-2. Likewise, Touya and Yukito, seven years older than Sakura, is in their last year of University, age 22 in Arc Two and Three.)
Kinomoto Sakura: Our heroine, Mistress of the Sakura Cards, formerly known as the "Clow Cards" and uses power the starts Successor to greatest magician of the East and West, Clow Reed; at the beginning of New Trials Arc One, starts of at age 14. She is currently 16 years old at the beginning of Arc Four, a freshman at Seijou High. Sakura's given name (桜) means "cherry blossom." Her surname, Kinomoto (木之本), literally means "the origin of wood."
Li Syaoran: the Chosen One of the Li Clan from Hong Kong; Sakura's former rival and now a partner in fighting against the dark forces; uses the power the moon. His last name Li (李) means plum and first name Syaoran (小狼) means "little wolf."
Daidouji Tomoyo: Sakura's best friend and cousin; provides Sakura her battle costumes and films all of Sakura's battles
Li Meilin: Syaoran's cousin and former "fiancée"; specializes in martial arts
Hiiragizawa Eriol: reincarnation of Clow Reed; uses power of darkness; classmate to Sakura
Kinomoto Fujitaka: Sakura's father; professor of archeology at Seijou University
Kinomoto Touya: Sakura's brother; pre-med student at Seijou University—majored in Neuroscience; has clairvoyance
Tsukishiro Yukito/ Yue: Sakura's first crush; Touya's best friend; pre-med student at Seijou University; counterpart is Yue, guardian of the Clow with Cerberus
Mizuki Kaho: Sakura's former fifth grade teacher; Touya's ex-girlfriend; uses power of the moon
Kero-chan/ Cerberus: guardian of the Clow, uses power of the sun
Suppi-chan/ Spinel Sun: Eriol's guardian
Akazuki Nakuru/ Ruby Moon: Eriol's guardian
Clow Reed: the former greatest Magician of the East and the West
NEW TRIALS ARC CHARACTERS
Chang Eron: the "Dark One"; sends out dark forces to attack Sakura
Chang Erika: Eron's twin, fellow "Dark One"; sends out dark forces to attack Sakura
Kaitou Magician/ Mizuki Kai: one of the world's top 20 wanted phantom thief; becomes Sakura's classmate though he's actually one year older than Sakura-taichi (first introduced Arc Two)
Tanaka Miho: Eriol's ward and Kaho's cousin, one year below Sakura at school; dream to become a writer (first introduced Arc One, New York Saga)
CLASSMATES
Mihara Chiharu: Sakura's close friend, best friend and boyfriend is Yamazaki Takashi
Yamazaki Takashi: Chiharu's boyfriend since kindergarten; teller of fantastical stories
Sasaki Rika: Sakura's close friend; is in love with homeroom teacher Terada Yoshiyuki
Yanagisawa Naoko: Sakura's friend; loves the supernatural
Akagi Aki: Sakura's classmate; head of journalism club and captain of basketball team; Akagi Arima's little brother; a narcissist
Terada Yoshiyuki: Sakura's homeroom teacher (used to teach at Tomoeda Elementary)
THE NADESHIKO ARC
(wow, almost every one under this list is deceased…age listed below is age at beginning of Nadeshiko Arc)
<![if !vml]>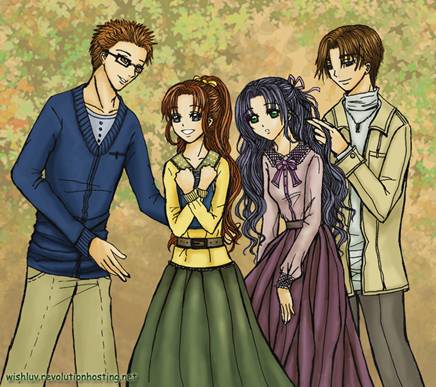 <![endif]>
The Fantastic Four, 22 years ago before the events of New Trials: Keisuke, Miara, Nadeshiko and Ryuuren.
(I enjoyed drawing the retro fashion on the girls)
Amamiya Nadeshiko: (14) Sakura's mother; married her teacher Kinomoto Fujitaka at age 16, passed away at age 27; battled against dark forces with Li Ryuuren and became guardian of the Clow Book
Li Ryuuren: (17) Syaoran's father, three years older than Nadeshiko, Chosen One of the Li Clan with mission to locate the Clow; eventually hands over the Clow Book to Nadeshiko for safekeeping before returning to Hong Kong
Mizuki Miara: (14) classmate of Nadeshiko; mother of Tanaka Miho and Mikai
Tanaka Keisuke: (19) university student; friends with Ryuuren; head of technological department at Kinhoshi Corp.; father of Tanaka Miho and Mikai
Chang Ryouta: (16) Ryuuren's classmate, the "Dark One"
Chang Reiji: (16) Reiji's sickly twin; not much known about him
Daidouji Sonomi: (14) Nadeshiko's cousin, Tomoyo's mother
Eri: (16) Ryouta and Reiji's classmate, Eron and Erika's mother
THE GREAT FIVE ARC
(age listed is age at the beginning of Legacy Arc)
Amamiya Hayashi of Edo: (16) first son of the austere samurai family of the Amamiya Clan; best swordsman in Edo during his time, though he has pacifist tendencies and prefers to play the ryuteki (Japanese flute) over fighting; possesses the Third Eye; childhood friends with Mayura; the kanji for Hayashi's name 林 means "woods"
Li Shulin of Shanghai: (13) I chose the characters for Shulin and the kanji for Hayashi to both mean "woods." What was the truth of her heart? I wonder. She is the Chosen One of her time and her closest friend is her cousin Li Clan Protector Li Shenji. Supposedly grew to be the most beautiful woman of the East. Mother of Clow Reed. Shulin's name shares the same Chinese character as Hayashi's meaning "woods"
Landon Reed of England: (17) disowned nobleman who sailed east on a merchant ship for adventure; bitter over a strained relationship with his father, Lord Clarence Reed who favors older brother Laurence;
Mizuki Mayura of Kyoto: (14) calm, level-headed miko of the Tsukimine shrine; talented in archery and has a younger brother named Keigo. Childhood friends with Hayashi, so knows some things about him that no one else does…
Chang Ruichi: (14) the original Dark One
Chang Risa: (14) Ruichi's twin sister
Mizuki Keigo: (10) Mayura's little brother
Amamiya Hayami: of the Amamiya Clan
Li Shenji : (17) Clan Protector; Shulin's best friend
Lord Clarence Reed: Landon's father
Lady Eleanor Cleau Reed: a Frenchwoman from Brittany, Landon's mother
Laurence Reed: (22) Landon's older brother
Catherine Chatterley: (17) Laurence's fiancée, Landon's first love
Edward "Ed" Rondart: (21) a merchant, Landon's good friend and fellow Englishman
OTHER SUPPORTING CHARACTERS
Akagi Arima: (22) Aki's older sister; Touya's classmate and currently a popular actress—launched career through winning the Best Couple of Japan Contest with boyfriend Tamemura Asuma (First Introduced Arc Two)
Tamemura Asuma: (22) a professional jockey; four-time winner of the Japan Cup, most prestigious horse racing in Japan; girlfriend is Akagi Arima—former classmate and horse-back riding rival; breeds horses in spare time (Arc Two)
Mike Kant: (21) New York-based photographer (Arc One)
Mark Kant: father of Mike, owner of a top modeling agency; photographer who "discovered" Amamiya Nadeshiko (Chapter 49.9: New Year's Special)
Shing: artist who had an obsession with painting Nadeshiko and Ryuuren (Arc One, New York Saga)
Nakano Yuri: Girl from Class 3-1 who has crush on Eron; originally from the same orphanage as Eron and Erika (Arc Three)
Yutaka Ichiro: Boy from class 3-3 who had a crush on Rika, as of Arc Four, is classmates with Sakura-taichi (Arc Three)
Shirose Subaru: (6-7) an orphan who Sakura and Syaoran once ends up baby-sitting; frequents the hospital because of brain tumor (Arc Three)
Ishikawa Nina: (6) a spoiled girl from the Kinhoshi Hospital; friends with Subaru (Arc Three)
Moeko: baby from orphanage Sakura once takes care of (Arc Three)
NON-HUMANS
Wolfie-chan: christened Eagle Vega of Lyra by Syaoran after favorite star, originally a dark force, the Wolf, becomes Syaoran's pet
Moonstone: the bunny-Mokona-looking guardian of the Five Force Scroll that used to help out Nadeshiko and also occasionally gives Sakura-taichi advice
Perro-chan: Kai's pet parrot; changes color to match Kai's mood or hair color
Midnight Star: Asuma's horse, Syaoran's favorite horse as a child; actually the Unicorn in disguise
The Silver Wolf: The King of Wolves (okami-no-ou), father of Wolfie-chan (?)
Shirahime: the Snow Queen, mother of the Snowy and Freeze; bitter against Clow Reed for taking away her children from her
THE KINOMOTO FAMILY
Kinomoto Fujishinta: Sakura's grandfather, Chairman of the Kinhoshi Group (Arc Two)
Kinomoto Fujishika: Fujishinta's eldest son, heir to the Kinhoshi Group (Arc Two)
Kinomoto Fujiko: Fujitaka's half-sister, daughter of Fujishinta and a maid (Arc One)
Kinomoto Fujitaka: Fujishinta's second son, disowned by Fujishinta
Mori: head housekeeper for Kinomoto household (Arc Two)
THE HONG KONG ARC
<![if !vml]>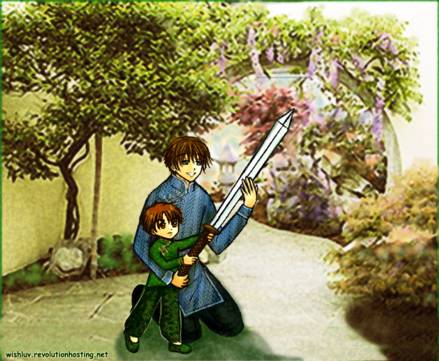 <![endif]>Refer to the Li Clan Hiearchy Character Guide for a complete list
(Picture of young Leiyun helping young Syaoran train)
Wang Wei: butler; Syaoran and Meilin's guardian in Japan
Li Leiyun: Syaoran favorite older cousin, died on a mission at age 16, hence Syaoran commenced training for the Test of the Chosen One at age 9
Li Jinyu: Li Clan Protector
Kara Reed: not much known about her
And the sad part is this not complete yet. : ) Will be updated as the story progresses!